PERSPECTIVE MATTERS
January 18, 2016
We sat down with Paul Gerace, owner of Paul Joseph Salon in Naperville, Illinois, to talk about the tough yet wonderfully rewarding process of opening his salon.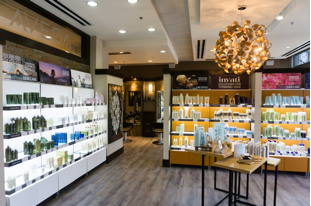 Shown here: Novvo Etopa Aveda Retail Shelving Units in White and Copper Bright, Novvo Etopa Aveda Cluster Tables in Amber, Novvo Etopa Aveda Domain Sign System
QUICK FACTS
Open Date: November 6, 2014
Square footage: 3,000 sq. ft.
Design Style: Traditional meets Contemporary
Color Pallet: Warm yet colorful earth tones (copper, tan, dark wood and speckled Stone Ledger)
Furniture Lines Used: Novvo Etopa
Retail Lines Carried: AVEDA
Color Lines Used: AVEDA
WHAT INSPIRED YOUR SALON DESIGN?
This project was pretty much from a 'vanilla box'. The space was previously a salon for 5 years, then sat vacant for almost a year. So, we were fortunate to inherit plumbing, fire protection, some electrical, and most mechanical. I could see right away what I would do to improve the use of space and layout.

My vision of the guest's experience is what truly inspired me. First, the visual décor from outside that made them want to come in. Our chandeliers with large copper curls that resemble cascading hair in our well lit and spacious retail area. Next, being able to see cutting and styling action from outside was important. A successful salon owner once told me at the beginning of my career, "A salon that looks busy, is busy."
Shown here: Novvo Etopa Aveda Travel Tower with Bunk in Amber
WHAT MAKES YOUR SALON UNIQUE AS A BUSINESS?
Location, curb appeal and a truly effective retail area.
WHAT ARE 3 WORDS THAT BEST DESCRIBE PAUL JOSEPH SALON?
Open
Inviting
Energetic
WHAT IS THE FEELING THAT YOU HOPE YOUR GUESTS HAVE WHEN THEY WALK INTO THE SPACE?
Once they walk through our revolving door, I wanted it to feel open and safe so guests feel invited to walk around, shop and stay awhile.


YOU HAD MANY OPTIONS WHEN IT CAME TO WHO YOU COULD WORK WITH ON THIS PROJECT. WHAT WAS IS THAT MADE YOU CHOOSE NOVVO ETOPA AS A PARTNER?
The initial communications with Novvo Etopa sold me. Conversations were sincere and honest from the get go. They seemed less interested in selling me anything and more interested in two things; my vision for the space and why I wanted to embark on this whole under-taking in the first place.

After these conversations, we all agreed that the investment was for the right reasons. The level of trust was so good that nearly all of Novvo Etopa's recommendations were taken without hesitation. They were tough and straight and held me accountable to my vision while not compromising my budget. Finally, upon arrival of the furniture, I was blown away not just the quality of it, but the care and attention used in preparing the furniture for shipment was also outstanding.